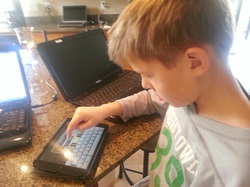 "Christmas Purchased" has come and gone leaving behind "splendiferous" gifts from Santa's favorite retailers. Who knew how techy Santa's inventory for 2012 would become? Before leaving for Christmas break this year I was asked what the best computer, tablet, educational gaming system...etc would provide a top of the line experience for the K-12 child. The race for the gold in all things Web 2.0 continues to accelerate more rapidly in each passing season.

As each of us reach for a little quiet time after the hustle and bustle of travel, relatives, and holiday parties where will we choose to unwind? Can you remember reading a book in a tent made from blankets or building a "new world" with the army men or weeble people that filled your stockings? Can you recall the size of the cardboard boxes that new electronics came in back in the day...and how joyful it was to make a house or fort out of the old TV box?

Finding myself drawn to the latest technology and interacting with the best HD screen available to relate and create in the 21st century makes me a little nostalgic for what childhood use to look like the week after Christmas. Without a doubt it is time to reach for the sleds and head outside to connect to the greatest gift of the season. Family and wide open spaces of love.

What will you fill your days with over the break?