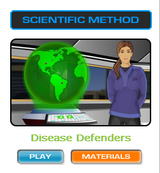 EXPLORE SCIENCE GAMES
Think About It: I love teaching technology...I love teaching science! Historically, getting my students excited about scientific exploration was much easier when using the Virtual Science Lab on the iPad. Today I found a web application that I believe rivals any of the apps in my library. The virtual web adventures designed by
The Center for Technology in Teaching and Learning (CTTL)
is a wonderful site for middle and high school students to practice and undertake research through simulations that are engaging, productive and true to the goals of NSTA standards. CTTL has created beautiful graphics for some of the best online virtual and interactive science labs I have ever reviewed.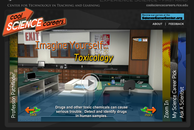 Cool Science Careers
In The Classroom: Experience Science First Hand is a free online web adventure series, with accompanying classroom activities, teacher support materials, and magazines. The focus is on teaching middle school students about infectious diseases. This free web adventure allows students to investigate pathogens, the diseases they cause, and the body's immune response. Students will perform virtual experiments that will reinforce scientific methods and encourage careers in STEM. FREE handouts available!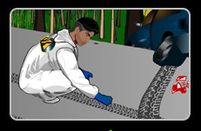 Forensic Science
To My Surprise: My students level of quiet concentration on this activity surprised me. At the middle school level I was unsure how my students would relate to a game that was centered upon an alcohol related fatality. Student feedback was overwhelming positive. Some of my students played the game at home to share with their parents how they enjoyed "learning in the tech lab about science stuff." I smiled when one of my kids inquired if this is how the forensic expert on NCIS started her career. As a teacher I enjoyed having an interactive activity that blended STEM standards and a game based approach to learning. I am very much looking forward to what CTTL has planned for the future.